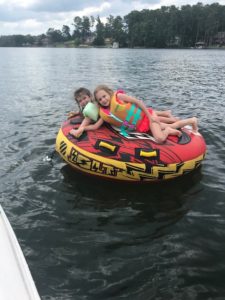 What comes to mind when you hear summertime? For me, late nights, swimming, laughter, fun activities, and ice cream are just a few things. Summer is my favorite as it means we aren't on such a set schedule and I can have the kids home with me. I LOVE the 4th of July as we now spend it on the lake with family – what's better than tubing and fireworks on the lake?
On this past Fourth, we were having a great day enjoying many of the things I listed as part of summer fun. That changed though when I picked Preston up from his nap; I noticed immediately he had a fever. My stomach sank and I immediately thought, "not again".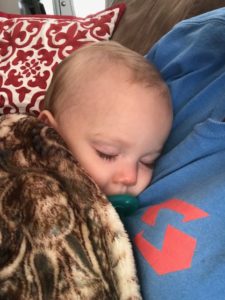 This summer has been one of the most exhausting summers I have had for my family. Sickness entered our home before Memorial Day, but I finally thought we were free from it. That was not the case though. Preston ended up being really sick and then Avery caught a different virus the following week. Those two weeks were hard. Tears well up in my eyes as I reflect back on them. Seven weeks of sickness in our home made me exhausted physically, mentally and spiritually. I NEEDED a fresh start as defeat hovered in the air.
My fresh start came in a way that was completely unexpected. It involved food – can you imagine a fresh start stemming simply from what goes in your mouth (or for me what doesn't go)? I constantly felt poorly from eating badly, and I knew I needed to do something. As I started this cleanse, on the fifth day God got my attention. His reminder was intentionality with Him is far more important than the intentionality of food and drink.
I needed more one-on-one time with The Lord. As I rearranged my schedule to spend time with Him, I suddenly felt HIS fresh air dwelling with in me. The negative thoughts that had been seeping in my mind about myself and my capabilities were being changed with promises from scripture. Instead of focusing on the hard, I started finding things to take to God to give Him praise.
"Do not conform to the pattern of this world, but be transformed by the renewing of your mind. Then you will be able to test and approve what God's will is – His good, pleasing and perfect will." Romans 12:2
This is a powerful verse for me. I was no longer going to live in defeat and survival mode alone. I was getting out of the pit, starting with where I placed my focus. This verse teaches us that we can have God's perfect will given to us, it begins with us renewing our minds.
I have been reading Praying Circles Around the Lives of Your Children by Mark Batterson and he wrote something that stuck with me. "To see change, to have our fresh start, we must have a desire, then a design and finally discipline."
For me, I desired to get out of the pit of what could lead to depression, I designed time into my schedule for "me time" (time to prep good food choices, time with Jesus and then time to exercise). The discipline is when it gets tricky. There is the initial discipline of just making changes. But then it's sticking with it and pressing forward once the newness fades. I'm choosing discipline to reap the award of intimacy with God who continues to breathe fresh air into this tired mama's soul.
What fresh start is waiting for you? Where has life brought you to your knees? You have the control to say "no" and get up to start fresh. I challenge you:
Desire – what's your dream?
Design – what's the first step of bringing your desire to fruition?
Discipline now what action do you need to take to make it happen?
As for my family, are we sick free yet? I hope so! But even if one wakes up in the morning with another illness, I know that my God is enough to sustain me through the moment!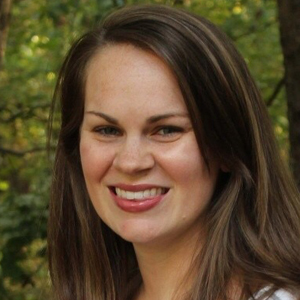 CHM Contributor Becca Parrott