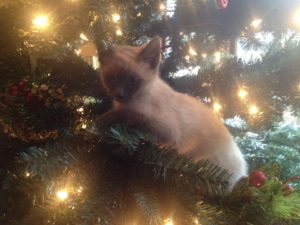 Even at a blistering 28 degrees Patsy still wanted to go out on the screen porch as soon as my feet hit the floor this morning. She wasn't out there for very long when I heard her crying for me to let her in. The weather report said last night was the coldest of the season. I don't know if that's true, but I can testify that when Patsy rubbed against my bare legs after she came inside, I did some crying out myself. Bejeez!!! It's cold as Christmas!!!
Which brings me to the subject at hand—Christmas. This year I'm determined not to say it snuck up on me. How does a holiday sneak up on someone anyway? My husband has snuck up on me more than once and scared me to death. Christmas just doesn't have that same effect. So, no being scared or stressed this year because Christmas is almost here. Again.
Now that our kids are grown adults with children of their own, our tradition of being together on Christmas day has changed. We get together with the "fam" the Saturday after Christmas every year and it has worked out fairly well. And, with this shift came the question what to do on Christmas day.
My husband, Guy, has one cousin, Charles. Both Guy and Charles' parents are no longer with us, so we have Christmas lunch at Charles' every year while our kids do their own thing. We can count on four things when we go to Charles': 1) hot buttered rum will be on the stove, 2) the roast will be ready, 3) music will be playing, and 4) The Christmas Story will be on TV with the volume muted. As we move to and from the kitchen and living room, Charles is likely to freeze in front of the TV just in time to give us a few quotes from the movie and right in sync with the characters.
Because Charles has never been married, is without children, and Midge and C.T. are gone, Guy and I always try to get him something special each year. Charles has loads of friends mind you and there is always an abundance of gifts under his tree, but it is our honor to be his family gift givers. And, while all our kids and grandkids give us lists, we don't request one from Charles nor does he request a list from us.
You can't go wrong getting Charles electronics, music, movie/theatre themed items and/or Atlanta Braves stuff. And, we've done them all. We have also given him clothes, i.e., jeans, sweaters, jackets (leather and puff styled) and shoes. But my favorite all time gift was . . . drum roll, please! Wait, I can't ruin the surprise. I simply must tell you the story.
I was thumbing through a Sky Mall magazine on a return home flight when there it was—the gift that would top all the other gifts combined. It was slightly over our budget, but when I arrived home and told Guy what I had stumbled upon he jumped right on it and ordered it online. We called Charles that very day and told him we were having his gift shipped to him and it was scheduled to arrive 3 days before Christmas. We gave him the choice to open it when it showed up on his doorstep or he could wait until we got there on Christmas. Charles is a kid at heart and my suspicions held true that he would not be able to wait until Christmas.
I had just gotten in my car when my cell phone rang, and it was Charles. He was laughing so hard and loud that the folks in the car next to me surely heard him. My immediate response was, "I guess you opened your gift."
As he cackled, he said, "Well, I just couldn't help it. Did you know it was coming in two boxes?"
"No, I didn't know that," I said, (although it made sense that it would).
"I just kept looking at the boxes and the smaller box looked like it might be a lamp shade. And, I thought y'all got me a new lamp. But when I opened the boxes, I had no idea it WAS A MAJOR AWARD!!!"
The laughter started all over again and I couldn't contain myself. I laughed so hard tears were streaming down my face. Any sense of stress that I might have been feeling because I still had last minute shopping to do, was lifted from me.
The joy I had from giving him a replica Leg Lamp from the movie The Christmas Story was the best gift ever. Guy called him later and asked him if he was going to go ahead and put it in his front window.
"Oh, no. The band comes over every year for New Year's Eve. I've already put the lamp in a closet. That night is going to be the "Unveiling"!!!"
I'm not sure what year that was but it seems like maybe 8 to 10 years have gone by. The Leg Lamp is shining bright in that front window every year when we arrive at Charles' front door. I'll never forget that moment when he cried out, "I had no idea it WAS A MAJOR AWARD!!!" It was priceless.
That one thing brought so much joy to all of us. When people ask me what the best Christmas present ever was for me, I think of that Leg Lamp and how it brought so much joy and we are still talking about it today.
It reminds me of the joy we receive when we experience the love of Christ. Sure, we focus on the birth of Christ at this time of year but it's His life and the sacrifice He made for us that brings us true joy when we ask Him into our hearts. And we can share the joy by telling His story over and over again.
Isaiah 9:6 New International Version (NIV) 6 For to us a child is born, to us a son is given,
and the government will be on his shoulders. And he will be called Wonderful Counselor, Mighty God,
Everlasting Father, Prince of Peace.
May God bring you the gift of joy this Christmas season. May He lift any stress or burden from your shoulders and give you peace. After all He is the Prince of Peace.
Merry Christmas y'all!!!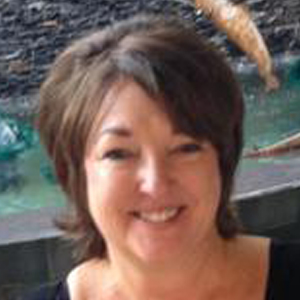 CHM Contributor
Annette Burrell