Our team at CHM was challenged to prayerfully consider what the next step will be for CHM. Over the past six years, we have partnered with churches to bring The Gathering, a time for women to worship together, find hope in other's stories and to hear Biblical teaching from God's Word. Sharing our stories can bring hope, as well as encourage us to face some hard things in our own life. Our goal was to connect every lady who needed help with a counselor at their church.
Over the past two years, we have come to understand that most churches do not have a counselor on staff, and most pastors, for many reasons, don't feel equipped to do counseling.
As the women came to hear the testimonies that CHM provided, whether it was the podcasts or in person, we found there was and is a great need for Biblical Counseling. We also realized this partnered perfectly with our mission of
Connecting Women with Jesus, God's Word, and Each Other.
This past month, CHM moved out of my house and into a home of its own, which only God could have provided, as we prepare to officially open in January 2024:
Choosing Him Ministries Biblical Counseling Center

We have hired and moved several people around in their positions to serve faithfully in their gifting, calling and training, and we will be announcing and welcoming them publicly very soon.
If you find yourself, or know of someone who could benefit from this service, please feel free to reach out before January. More information will be available on our website soon!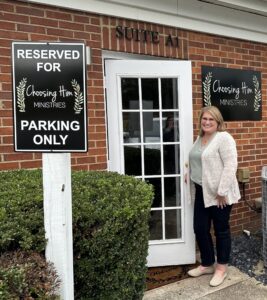 29 Millard Farmer Industrial Blvd.
                               Suite A-1
                      Newnan, Ga 30263
                            770-755-6994