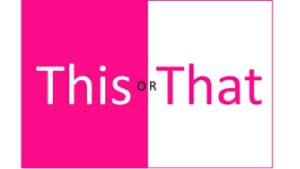 We make choices every day. We make the choice to get out of bed in the morning; sometimes when we do not want to. We make the choice to begin our day by eating breakfast or going without. How many of you do that? We make the choice to drive within the speed limit – I hope that you are. We make the choice to show up on time for work. We make the choice to go to church; maybe not just go to church but be involved. We make the choice to be parents to our kids versus choosing to be their friend.
The list could go on and on and on. There really is no end to the choices we can make. We are gifted with the opportunity to live in a free country with choices at our fingertips. I could not imagine living any other way and am so very grateful to live as a woman in the United States.
With the privilege to make choices comes great responsibility to make good ones Making poor choices could result in negative consequences. When making choices, remember to be selective and thoughtful.
As we enter the holidays, I want to challenge you on how you choose to spend your Sabbath. The holiday season is a busy time of year. As if we are not busy enough as moms, sisters, daughters, wives, aunts and friends – the holiday season puts a little different spin on our daily lives. I absolutely love Christmas – the decorations, the lights, the food – oh my gosh, the food. Isn't it great! This is the best time of year to learn how to truly observe the Sabbath.
Deuteronomy 5:6-21 shares the Ten Commandments. God's laws that we are to live by. Laws that we should feel very convicted about as Christians. Verse 12 is specific about "observing the Sabbath day to keep it holy as the Lord your God command you."
Whether you work outside the home or inside, we are working 6 days a week. Monday – Friday working and Saturday is usually the day we run errands or spend attending activities with our kids. So, let me say that again – we are working SIX DAYS A WEEK. Shouldn't we be observing the Sabbath as a GIFT? A day we are commanded to observe.
How do you currently observe the Sabbath? Do you make your 'to do' list during the pastor's sermon? Are you going grocery shopping? Or how about cutting the grass? Does any of that sound familiar? The Sabbath means – to cease, to stop, to pause, to come to an end. Next time you think about all of the things that you need to accomplish, choose to spread those things out during the week. Make the choice to observe the Sabbath as God commanded.
The Sabbath is in place to give us margin in our lives and give us a chance to reset, to recharge and to just breathe.
What has happened to our society that people do not choose to leave room for margin?
Rest can be found in margin. God brought rest to us. He worked 6 days creating the world including us and on the 7th day, he took the day off. God is setting the example of making a good choice.
When observing the Sabbath with rest, it means not just resting from work, but resting from our thoughts. Rest allows you to clear your mind and prepare for what's ahead. Rest should remind us to BE STILL as Psalm 46:10 says. Rest gives us a calming feeling and a new perspective. Rest can also give us reassurance to trust God and know He is in control.
So I will ask again – What has happened to our society that people do not choose to leave room for margin? Why do we feel guilty when we are not doing something? Are we worried that others will classify us as lazy? Priscilla Shirer says in her study Breathe: "when we neglect time to create 'tranquility, serenity, peace and repose' in our lives, we limit our Christlikeness and miss out on some of God's greatest gifts."
We have turned the Sabbath – a DAY OF REST – from a blessing into a burden. WHY? I think the answer is because we view busy as being more important. We have lost respect for margin placing more value on work than rest.
Make the choice to . . . observe the Sabbath. Practice being still and be in awe of what God can do.

Melissa Todd
CHM Contributor