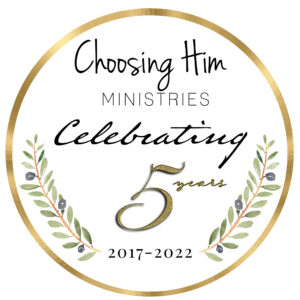 Five years! It feels like a blink of an eye, and I am thoroughly amazed that God has allowed me this honor to serve Him and women in this manner. This year has been almost eight years in the ministry and is our fifth anniversary of becoming a non-profit. Though the logos, events, and seasons have changed, the mission and vision have been consistent; to connect women with Jesus, His Word, and each other. It's been a faith journey and an incredible blessing. Please help us celebrate the faithfulness of God as we share what He has done over the past years through obedience.
We would love to hear your testimonials of ways CHM has impacted you over the years. So many have reached out telling us the how God met you at times when you needed it most and used a CHM resource to speak to you. Please consider emailing a quote or story to [email protected]
In the coming days, you will get information and an invitation to the five-year celebration benefit. This is an evening celebrating all God has done as we see the people behind the scenes, the words, and the mission. We will have a dinner, music entertainment, and hear about our mission and vision. This will also be a time to help support what God has called us to in the future. Please pray about making this a priority on your calendar to come, support and celebrate with us. The event will be held at the Newnan Train Depot on Thursday, November 10th at 6:00 pm. Tickets are $30.00 each to help offset the costs of the evening. Seating is limited, but please come and invite your friends to join us in this ministry and mission to connect and build up the kingdom of God one connection at a time!
Choosing Him,
Tecia Farmer Janes