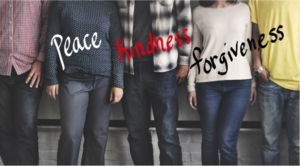 I think un-forgiveness is one of Satan's favorite tools. There is no better way to multitask for Satan than to get the victim to become a perpetrator. When we are hurt, Satan knows we are our most vulnerable. We get so completely focused on the wounds and nursing them and ourselves, that we take our eyes off Jesus and become effectively paralyzed. When our eyes are taken off of Jesus, we forget. We forget that He is in the healing business and He can care for our wounds much better than we can. We don't trust Him with our wounds and we take our eyes off Jesus to focus on healing ourselves, and then we stop moving. We sit in our hurt and it becomes bigger and bigger as we focus on it. Good news. All the gospels remind us that Jesus was frequently healing paralytics.
The first step is to put our eyes back where they belong. We don't give ourselves enough time with this. We need to look Jesus fully in the face and absorb all that love to fill up those wounded places. It feels like wasted time. But without it we aren't enabled to move. As a society we do the same thing when we are sick, we refuse the time it takes to heal and go ahead and pick up our matt and hobble off like we can walk again. I don't want to limp through my life when I could have run. Do you? There are so many things in our life that we're hobbling through. We could be running.
We have to stop thinking of forgiveness as a one and done. It's not. Forgiveness is a dependence on God's enablement to forgive every time we breathe in and breathe out. It's a choice over and over and over and over. The good news is if we've made the wrong choice, we can make the right one. Because only God makes all things new. He tells us His mercies are new every morning because He knew we'd need them to be. He created beginnings and seasons and fresh starts in all of creation because He knew we would need them. I have needed every one that He has given me.
So if you need to forgive and you have failed over and over, tell God right now and lay it down. Give it to Him to sort out and stop trying yourself. You don't have to sort it out. It isn't in your job description. You just have to surrender moment by moment. The chances are good that you will pick it up again, but there are no chances that God won't forgive you and give you the strength to lay it down again. If you start to hobble, choose to sit, sit and be in His presence until you can walk again. It isn't wasted time, it's enabling time. You will not regret it. I have never regretted time I chose to look long into Jesus.
If any of this rings in your heart, stop. Stop right now and look long into Jesus. I don't care what you are doing, middle of dinner, shower, work, laundry, diapers. What can't wait (do fasten the diaper shut). But seriously, what can't wait. Looking long into Jesus is what has eternal value in our days. Sit down, stop hobbling and let Him treat your wounds. Don't deny them, He knows them. Don't try to heal them yourself, you can't. Don't hold them tight, hold Him tight. Look long into Jesus and see how much He loves you. Forgiveness, like every other victory, requires rejecting the lie and choosing the truth minute by minute. We have to believe the truth in 2 Peter that God has given us everything we need for life and godliness. We have to believe it's there and then we have to pick it up.
"Put on then, as God's chosen ones, holy and beloved, compassionate hearts, kindness, humility, meekness, and patience, bearing with one another and, if one has a complaint against another, forgiving each other, as the Lord has forgiven you, so you also must forgive. And above all these things put on love, which binds everything together in perfect harmony. And let the peace of Christ rule in your hearts."
                                                                                                Colossians 3:12-15a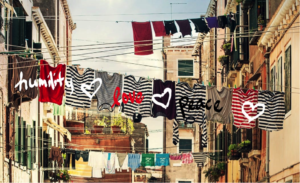 Sit down and look long into Jesus and see that you are chosen, holy, and beloved. Then pick up and put on the other things He provides: compassion, kindness, humility, meekness, patience, forgiveness, and love which binds it all together. Leave the bitterness and un-forgiveness at the roadside.