I offended someone yesterday. I felt it in my heart as soon as I started reading the email. My heart sank. The more I read the more it kept sinking, as if it had an anchor attached to it and it wouldn't stop until it landed at the bottom of the sea. The words hurt my heart, but they also ripped into my soul, as I pondered what my own words had done to my friend to cause this note that I was reading.
Words are funny that way. Not funny ha-ha, but funny strange. You know? As a writer, words are a powerful tool that are used to paint a picture for the reader. They can bring laughter, fear, suspense, tears and so many other emotions—all designed to keep the reader on the edge of their seats wanting more. A writer of novels spends sometimes years to get his or her story from their minds onto the shelf of a bookstore. It starts with the thought; writing it down, having it reviewed by an editor, then back for re-writes, for as many times as it takes to get it to say what they really want it to say. Then it gets published, printed, distributed and marketed. This, obviously, is the short version, yet it is the process.
A few years ago, I attended a writer's workshop put on by three famous and highly respected people in the book and TV script writing business and I had a choice of a one-on-one session with either of the three writers as an option when attending the workshop. I chose a one-on-one with the novelist because I wanted some personal feedback on the draft of my manuscript The Slippery Slope and I thought she would be the most appropriate one to talk to. The workshop was great and the one-on-one session was just as incredible as she graciously told me, after skimming over the first page and a half of my manuscript, that I had a gift for writing. I was pumped to say the least! So much so that when she asked if I had any questions, I couldn't think of a single one (not even the questions I had prepared to ask her that were written on a list right in front of me).   During the workshop the speaker who had just looked at the first page of my manuscript, began describing the difference in story telling coming from a man's perspective verses that of a woman's. You know, women always want to "know "all the details. And, we want to "tell" all the details. But, men have the gift of keeping things simple and leaving us women with lots of unanswered questions. But, the details are what makes us great writers, right? Wrong. It's what gets us in trouble sometimes when it comes to real life.
The offense took place on a Wednesday. I had sent a simple email with a question to a friend. The friend replied to me the next day. That's the day I almost drowned from the anchor of my sinking heart. I so wanted to immediately write another email or pick up the phone and ask this friend for forgiveness, but God told me to wait. I couldn't understand why God would want me to wait. I knew what hurt I was going through because I had offended someone and I could only imagine what the other person must be feeling. But I was growing in my faith and had finally started allowing God to direct my path, so I waited. On Friday I had some girl time with a friend of almost 40 years; a friend and confidant who would be honest with me and let me know where I had gone wrong and how I had offended my other friend. So I showed her the email that had started this whole mess.
It only took her a minute to give me a response. She started laughing and said, "well, if you only had a question, why didn't you just leave it at that? You wrote a book." And she was absolutely right! I had built a clock. This has become my husband's favorite phrase for me when he asks me a simple question which requires a yes or no answer and 30 minutes later he has his answer. And, he reminds me that he only wanted to know what time it was. Instead I had built him a clock.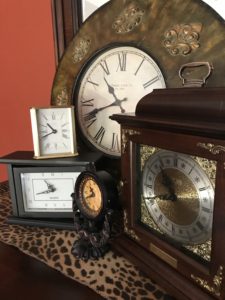 Over the weekend I reread my email and my offended friend's reply several times during my waiting period from God. I laid my hurt at the feet of Jesus and left it there.
On Monday afternoon my phone rang, and I answered it as I prepared myself to face the music. The voice on the other end was kind, gentle, almost immediately asked for forgiveness. She said she hoped we were still good friends. I was stunned and told this person that it was me who needed to be forgiven. We both forgave each other and the weight of the anchor was lifted from me.
The world and Webster's dictionary defines forgiveness as "to stop feeling anger toward someone who has done something wrong: to stop blaming (someone): to stop feeling angry about (something): to stop requiring payment of something or someone."
Devine forgiveness is God's way of restoring us back into a relationship that is free of guilt. In the Old Testament God is depicted as merciful. He is described as "slow to anger", "abounding in love/mercy", and "compassionate and gracious". God is lenient toward his children, not treating them as their sin deserves. (from Biblestudytools.com)
Oh, how I long to be like God; slow to anger and abounding in love and mercy. God demonstrated His most ultimate forgiveness when His son Jesus was on the cross shedding his blood, being sacrificed as an atonement for our sins. When he was on the cross suffering, he was demonstrating forgiveness; forgiveness of one and forgiveness of the world. Luke 23:39-43 (NKJV) says, "The one of the criminals who were hanged blasphemed Him, saying, 'If you are the Christ, save Yourself and us.' But the other answering, rebuked him, saying, 'Do you not even fear God, seeing you are under (Man has done nothing wrong.' Then he said to Jesus, 'Lord, remember me when You come into Your kingdom.' And Jesus said to him, 'Assuredly, I say to you, today you will be with Me in Paradise.'"
Just before He forgave the thief on the cross the Roman soldiers had divided up His clothes and were casting lots. Luke 23:24 says "Jesus said, "Father, forgive them, for they do not know what they are doing." Most theologians agree that He was not just talking about the soldiers and His accusers, but He was talking about all sinners. Romans 3:23 "For all have sinned and come short of the glory of God." So, again, God demonstrated what forgiveness is and looks like when Jesus was on the cross.
An hour after what proved to be an uplifting phone call of forgiveness I had a divine appointment with the Founder of Choosing Him Ministries, Tecia Farmer Janes. At the end of the conversation she asked if I could start thinking about writing a few blogs on some upcoming themes, the first of which was "Forgiveness".
Isn't God an awesome God? He's the God of time itself and it was in His perfect timing that He had me wait on my hurt to subside a little bit. And His perfect timing allowed my friend to think and heal also. Then God in His infinite wisdom directed the timing of the forgiveness phone call to line up with the need for a story about it.
In my quest to be a writer and be the best that I can be I have discovered that I spend way more precious time on the words that go into writing blogs, stories, songs and books than I do on writing words that encourage, lift up, and love on my family and friends. Lord, help me to choose my words wisely and may you be glorified in each and every one of them.
Have you offended someone? Have you been putting off that dreaded call that may lead to forgiveness? The God who is "slow to anger" can direct your path and guide your words to begin the healing process of that broken relationship.
Has someone offended you? Are you still carrying the pain of that heartbreak? God can use you—the one who was offended—to release that weight and bring joy back into your life. The God of abounding love and mercy seeks to restore hearts and He'll restore yours.
Annette