Being still can be especially difficult because it feels like inaction. Being still and letting God fight for us in our day, circumstances, and every battle as Exodus 14:14 implies we should, feels needy. We don't like to feel needy, even with God…sometimes most with God. I often believe the lie that God isn't interested in my every day. He already saved me from eternal damnation, how much more can I really ask for? At this point I could list a thousand scriptures that contradict this view, but it would take up the rest of this page. It's so funny how we can sometimes believe things that we really know aren't true. I have believed the lie that I am too needy for God.
    "But I call to God, and the Lord will save me.
Evening and morning and at noon
I utter my complaint and moan,
and he hears my voice.
He redeems my soul in safety
from the battle that I wage,
For many are arrayed against me.
                                                Psalm 55:16-18
David understood that he couldn't be too needy for God. He was His child. As a mother, I don't always welcome complaints and groaning morning, noon, and night. Maybe morning and noon, but by night, I'm done! God, however, isn't human. He doesn't run out of energy and patience by the end of the day. He knows we can't learn to be still unless we feel safe. We feel safe, when we have been heard. He always hears us. David assures us that He hears our voice and redeems our soul in safety. Knowing He has heard us enables us to lay our anxieties down. The kindness and patience of our God allows us to feel safety in being still, which really means relinquishing our illusion of control. Being able to say all the things on my heart to God makes me feel peace because of the reminder that He is for me. Even though I am not in control, the God who is cares for me. He sees me and hears me and knows what is coming against me. More importantly, He knows where we are going.
I don't relax when I don't know where we are going. My husband knows this about me, and he is catching on to the fact that I don't actually enjoy surprises. This hasn't stopped him from figuring out a way to surprise me safely. Here is an example of how this plays out: I just turned 40 this year, and for my birthday Pete rented a house on the beach. He told me he had a surprise for my birthday and made me wait a whole weekend before he told me. That way he got the joy of the surprise, and I got to rest in the knowledge of where we were going. He's a genius.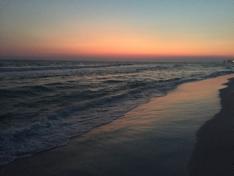 Being still with God requires that I touch base evening, morning and noon, so that I know where we are going and I rest in it. I need the reminder that He is there. I have to choose rest. I have to choose to take my hands off and watch God paint my picture. I can't paint my own life because I don't know the colors and strokes that God has picked for me. I will mess up the grand scheme of the painting if I try to manipulate the colors. I have to be still and watch. Sometimes I complain that I don't like orange, and I don't want it in my painting, and God in His amazing patience listens and I am heard. He gently reminds me that I don't know what He might be blending with that orange, even if I wouldn't have picked it. I've seen far too many sunsets at this point in my life to forget that orange is sometimes needed. When I remember all the beauty He has worked in my life, it helps me be still and wait for the sunset to see what it brings.
Everyday, there is pressure to conform to this world, everyday, but God also invites us everyday to be transformed by renewal. Being transformed by renewal involves Being.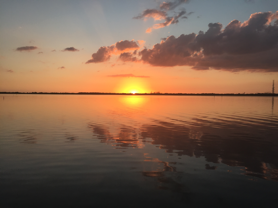 It means being still in God's presence, letting the Holy Spirit do His work in us evening, morning, and noon. We have to bring Him our thoughts, our complaints and moans, so that He can renew them. It doesn't require work to Be Still, but it does require faith. Faith that God is working out our sanctification and that it is leading to a beautiful end.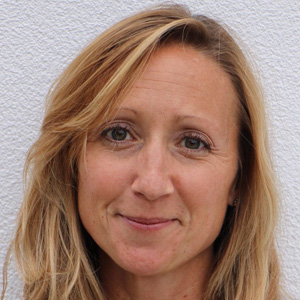 Written by Lauren Mitchell