The Savior Still Came
                                    By Tiffani Long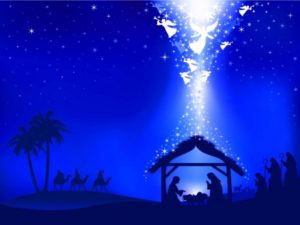 I'll go ahead and admit that I am a total Christmas nut. I love all things Christmas! The movies and music (well, minus that Christmas Shoes song). The baked goodies. The lights, trees and decorations. The giving and receiving of gifts. The traditions with family and friends….even the Christmas dish towel hanging from my oven door makes me happy, but none of those things can compare to why I love this time of year the most.
This is my absolute, most favorite time of the year because it's the celebration of the First Coming of Christ!
Now, if I stopped writing right here, that would reason enough to celebrate. I mean "Jesus is the Reason for the Season" right?! BUT. Let's talk for a second about how HARD the enemy tried to KEEP our Savior from COMING in the first place.
Think back through the Old Testament. Think about how the people of Israel and the line of David and other people that God would use in His Great Plan were persecuted, thwarted, undermined and abused. Kings killing babies. People groups fleeing. All to stop the Savior from coming.
BUT THE SAVIOR STILL CAME!
God protected His Son (and our plan for salvation) for generations before Jesus even left Heaven. That makes my heart fill with joy during this season more than any other thing! He came to redeem and restore. He came to heal and help. He came to save and seal us. And He came at CHRISTMAS! All the traditions and songs and celebrations become even more special. The joy of our celebrations become the gospel message right in front of an unbelieving world!
Celebrating Christmas gives me hope to overcome and endure throughout the entire year! It's like the Christmas season is the great build up to say THANK YOU JESUS! YOU CAME ANYWAY! Despite the efforts of the enemy. Despite knowing You'd die for a fallen and ugly world full of sinful people. So this gift is under the tree because YOU are the real gift, Lord—THANK YOU! I'm putting money in this red bucket because You've provided all my needs this year—THANK YOU! I'm singing "O Holy Night" to the top of my lungs because You came, lived, died and ascended to Heaven for ME—THANK YOU! (and also because in my van I turn into Celine Dion!)
Christmas Day will soon arrive and with it some of my favorite traditions: watching my not-so-little babies open their gifts. Going to my sister's house where everyone shows up with bedhead and in their jammies for our big family gathering. We will play Bingo, eat GG's Famous Mac and Cheese and Mimi's Famous Red Velvet Cake. We will forget the Broccoli Salad in the fridge (yes, that is also tradition), but that morning, before we go anywhere or do anything, my little family of four will open the Word to celebrate that our Savior still came and even better, He is coming again—our greatest COMFORT and JOY.
"For to us a child is born, to us a son is given; and the government shall be upon his shoulder, and his name shall be called Wonderful Counselor, Mighty God, Everlasting Father, Prince of Peace." Isaiah 9:6
"Behold, he is coming with the clouds, and every eye will see him, even those who pierced him, and all tribes of the earth will wail on account of him. Even so. Amen." Revelation 1:7