I looked down at my hand and I saw it. I had felt it a few days before, but now I could clearly see it on the pinky finger of my right hand. The knuckle was slightly pink and appeared to be swollen and it was throbbing! I didn't remember hitting it on anything, but I felt sure I had injured it somehow. That's when it hit me. The dreaded arthritis had set in. I wanted to call my mom and ask her how old she had been when she saw the first signs of it in her hands, but she had been gone from this earth since 2011. And many unanswered questions have been asked in those eight plus years.
I made a pact with myself that day (yes, I talk to myself sometimes). I would start sharing the good, bad and ugly of getting old with my daughters. And for those of you of the younger persuasion, if you are at all curious, I've started a list. This list is not all inclusive and it's probably one of the first lists I've made that has any point to it. I even organized it into categories. And, by the way, I'm not a list maker. But as I am getting older, sometimes I forget if I've already said or done something, so the list helps me remember. Now, what was I saying? (Wink)
As I get older and wiser (thank you Jesus), I have learned:
The good.
God loves me. John 3:16 (NIV) "For God so loved the world that he gave his one and only Son, that whoever believes in him shall not perish but have eternal life." As a child it's so simple. But as we grown in Christ we come to a deeper sense of the depth of God's love for us.
God has and always had a plan for me. Jeremiah 29:11 (NIV) "For I know the plans I have for you, declares the Lord, plans to prosper you and not to harm you, plans to give you hope and a future." I muddied up His plan for me so many times, but He allowed me to struggle so that when I was willing to surrender, He could use my failures for His success.
The bad.
God has numbered our days and our childbearing time clock. There is much said in the Bible on this, but read Genesis carefully and it may become clearer. I've listed this in the bad category only because we all too often take these two things for granted until it's almost too late. So, if you are a woman who can bear children, enjoy the birth process and in watching your children grow. And enjoy when your children have children if, and when, that happens. Play with them early and often. The older they get, the older you get, and the playing gets harder.
We don't always get it right. As hard as we try as parents, we make mistakes and we sin too. When you make a mistake as a mother, admit it and ask your child for forgiveness. It will set you free.  1 John 1:9 (NIV) "If we confess our sins, he is faithful and just and will forgive us our sins and purify us from all unrighteousness."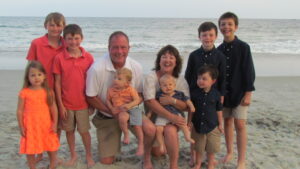 The ugly.
The word ugly is ugly, and society magnifies it sometimes. Don't listen to what the world says about your outward appearance. Remember to build your husband up and he will in turn do the same for you, which will ease the blow of the wrinkles that will start appearing in your 40's or 50's. Your hair will most likely turn gray, your eyebrows will thin out and your chin will grow hair. It doesn't make sense and I will ask God why if I think about it when I get to Heaven. Nevertheless, it will happen. And, when your appearance changes remember to praise God through it all. Psalm 139:14 (NIV) "I praise you because I am fearfully and wonderfully made; your works ae wonderful; I know that full well."
You will start getting aches and pains that may slow you down. Eat right and exercise and it may help with some of them. Some pains you are just meant to go through. God didn't design it that way in the beginning. It was a consequence of Eve's sin. So, blame her and not God when the pain comes to you. And then realize, just like Eve, we sin too. Be willing to acknowledge your sin. 1 John 1:9 (NIV) "If we confess our sins, he is faithful and just and will forgive us our sins and purify us from all unrighteousness."
Aging isn't easy. Our hair turns gray and falls out. Our eyes start getting weaker. Our bones get brittle. Our skin becomes dry and wrinkled. Our muscles lose their strength. Our back needs adjusting, and our entire body needs an overhaul.
But it's what is in your heart that matters. I've watched my children accept Christ and I am watching them mature in their faith. I'm seeing the fruits of their labor as their children also come to a saving knowledge of Christ. It brings joy to my heart to see the next generation of believers being born into the Kingdom.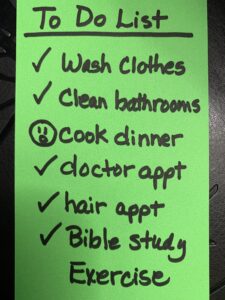 We will all grow old. I believe God wants us to enjoy this life, but He longs for us to plan for eternal life. Make a list.
Organize it if you need to. But don't miss the important part of planning for the future. Have you planned for your eternal future? All you have to do is pray and ask Jesus into your heart. Won't you do that today?
Blessings y'all!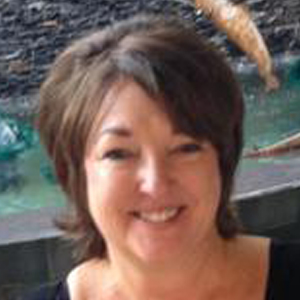 CHM Contributor
Annette Burrell