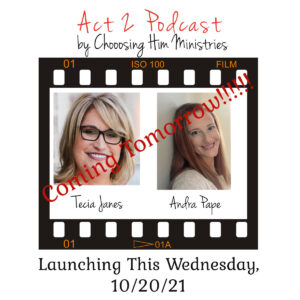 This Wednesday launches our new podcast, Act 2 by Choosing Him Ministries. Our desire is to share how God has and is working in our lives as we encounter the next Act, Act 2.
Maybe you are thinking, Act 2? how about 3 or 4? Well this fits you too!  We often seek a redo, but God wants to use our past to refine us and grow us so we can become more like Him. The more we are like Christ the greater our influence for Him is!
In this podcast, you will hear personal stories by various people who choose to look to God in their journey. Sometimes the greatest clarity is hindsight, right?
Our prayer, as you listen, is for you to begin to seek God in your circumstances and find God in your story!
So whether this is Act 2,3 or 4, it's your story, own it, share it and let God use it!
You can find us on Youtube at Choosing Him Ministries or on your favorite podcast platform!