We all have anniversaries, yearly reminders of a specific date in our lives. It may be a good one or a really hard one, but there are days that clearly draw a line in the sand for each of us. I have a long list of both. However, today is my husband and my 24th wedding anniversary. That's hard to believe, because 24 years seems like a lifetime in a lot of ways.
I used to treat anniversaries as an assumption, like a holiday that was guaranteed to come around each year. Maybe because my focus was on the anniversaries of people and things that were lost. Most Anniversaries were counted by how many days, weeks or months our grief had been in existence.
But over the years, I have come to realize how important, special and intentional anniversaries are. As for our marriage, our anniversary symbolizes that each year we have chosen to make it through the bad together and also received the blessing of the good together. We have chosen to forgive and give grace, to support each other's dreams and step into the next day together realizing that the next season is not a guarantee. Our anniversary is a gift, but if we don't choose to see it that way, it's like a gift that still sits under the tree, never taken, never opened, just waisted. I don't want to waste this gift!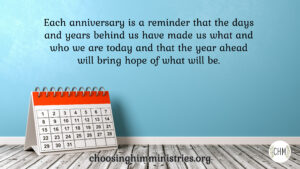 Each anniversary is a reminder that the days and years behind us have made us what and who we are today and that the year ahead will bring hope of what will be.
There is so much pain in this world, but the gift of hope far outweighs the burden of it all. The gift of Christ's love and sacrifice is the hope of tomorrow.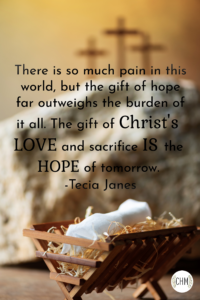 I don't know what your "anniversary" date brings, but I challenge us all to treasure the gift of what made us who we are today and step into the hope of what this year will bring. Do you have a date set for your anniversary of your marriage with Christ? That may sound weird at first, but we mark every occasion with those we love and the most important relationship we can have in our life is that with Jesus Christ. So when did yours start? What are some milestones in your journey with Him that you need to place as mile markers? If you don't know that date, I encourage you to make it today. Don't live in the trenches of what is lost.
Step into the joy and hope of today, the anniversary of your relationship with the greatest love you can and will ever encounter. Jesus Christ's love will never reject, demean or compare you to the worldly allures. He will never hurt you or leave you. What this greatest love promises is what the word Love truly means…
This Love is patient and kind; love does not envy or boast; it is not arrogant or rude. It does not insist on its own way; it is not irritable or resentful; it does not rejoice at wrongdoing but rejoices with the truth. Love bears all things, believes all things, hopes all things, endures all things. Love never ends." (1 Corinthians 13:4-8)
My prayer for you today is to find your greatest anniversary. Be intentional in your relationship with Jesus, celebrate Him, tell Him you love Him and then listen, as He tells you just how much He showed His love for you and continues to show it every day.  Happy Anniversary!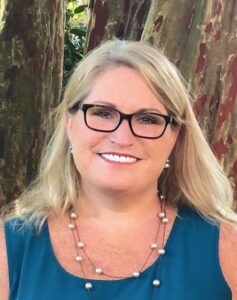 Tecia Janes
CHM President