"But You, O Lord, are a shield about me, my glory, and the lifter of my head." Psalm 3:3 ESV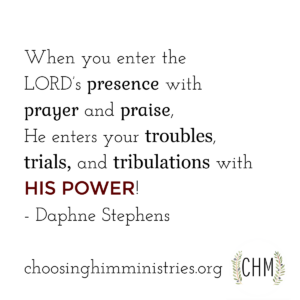 Beloved Sisters, are you having a blue day, week, month or year? Are you ready to give up, cave in and/or quit the race God has set before you because you are grieving, overwhelmed, hopeless, fearful, stressed, or sick and tired of being sick and tired?
I remember when I was having a blue season in my life many years ago, I heard a pastor quote, "Don't nurse it; don't curse it; don't rehearse it but reverse it with the word of God!"
When I cut my hair short and my hair started to gray, I received a lot of negative comments about my hair from other women. Their comments at first would make me have blue moments or a blue day. Now, when someone says something negative about my hair I humbly share, "Gray hair is a crown of glory; it is gained in a righteous life." Proverbs 16:31 ESV
God absolutely loves and cares about His daughters; He wants the very best for us! The Bible is His love letter to us.
Can you imagine being blue for twelve years? "And there was a woman who had had a discharge of blood for twelve years, and who had suffered much under many physicians, and had spent all that she had, and was no better but grew worse. She had heard the reports about Jesus and came up behind Him in the crowd and touched His garment. For she said, 'If I touch even His garments, I will be made well.' And immediately the flow of blood dried up, and she felt in her body that she was healed of her disease. And Jesus, perceiving in Himself that power had gone out from Him, immediately turned about in the crowd and said, 'Who touched my garments?' And His disciples said to Him, 'You see the crowd pressing around You, and yet You say, 'Who touched Me?' And He looked around to see who had done it. But the woman, knowing what had happened to her, came in fear and trembling and fell down before Him and told Him the whole truth. And He said to her, 'Daughter, your faith has made you well; go in peace, and be healed of your disease.' " Mark 5:25-34 ESV
"Jesus Christ is the same yesterday and today and forever." Hebrews 13:8 ESV If Jesus healed the woman with the issue of blood and declared she was well; He will do the same today and forever when His daughters are having blue seasons of grief, loneliness, disappointments, discouragement, unemployment, illness and or disease.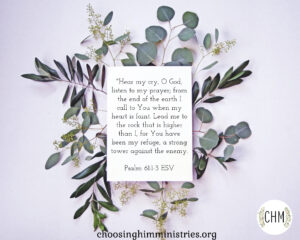 Beloved sisters, I want to encourage you to look in a big mirror and point to yourself and say loud and proud, "Blue, Blue God Bless you!
"Hear my cry, O God, listen to my prayer; from the end of the earth I call to You when my heart is faint. Lead me to the rock that is higher than I, for You have been my refuge, a strong tower against the enemy." Psalm 61:1-3 ESV
"The LORD bless you and keep you; The LORD make His face to shine upon you and be gracious to you; the LORD lift up His countenance upon you and give you peace." Numbers 6:24-26 ESV
Blue, Blue God Bless You my sisters!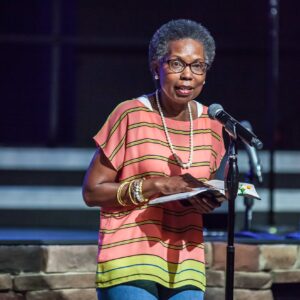 Daphne Stephens
CHM Guest  Contributor