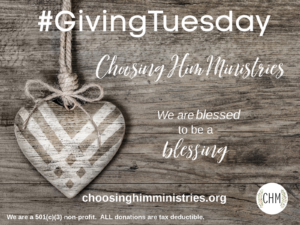 #GivingTuesday is a day to support non-profits and charities. We are asking you to prayerfully consider donating to Choosing Him Ministries this year. We have been extremely blessed this year and we are so grateful for the opportunities we have been given to share God's love and to partner with women in their calling. However, like so many others, we were not able to host the conferences that financially enable us to host our conferences the following year. We want to be able to reach as many women with God's Truth for their everyday lives as we can. We all need the hope of Christ right now and we feel called to share that with women. Would you consider helping us financially this year? No amount is too small.
We are a 501(c)3 non-profit, so every dollar is tax deductible.
May God return the blessing as we partner to help spread the faith, hope and love of Christ to the World.
Choosing Him,
Tecia Janes