Father's Day
I've been without my Dad now for 31 Father's Days. Every year the heart saddens and misses him terribly. So how does one get through hard holidays when the purpose is to celebrate something you have lost?
Gratitude
My Dad went to see Jesus in 1992, my Stepfather in 2017, my Grandfather in 2019, my Uncle in 2020, and my Father-in-law in 2021. God brought each of these men into our lives to teach us, love us, protect us, make us laugh, and most importantly, point us toward Jesus. They each carried us through one grief and passed us off to the next to carry us again. While the sadness has been profound at times, the gratitude of each one supersedes the loss. That is not a flippant statement. It's a hard-fought one. I had to choose to be grateful at times when my heart wanted anything but.
Gratitude
I don't have to be grateful for the loss, but I do get to be grateful for God's presence and provision through each one, including each father figure that would come into our lives next.
Gratitude
This year, I get to celebrate my husband, the father of our children, who was one of the pillars for me in all that grief. We also get to celebrate our son's first Father's Day! It's a sharp reminder to hold dear the memories of those we love and have lost, but not so tight that we squelch any room to make new ones with those in front of us.
I get the loss if this Father's Day is your first without your Father or your 31st. I get the hole that will always be in your heart, and that's ok. But I would encourage you to shift the void of loss over a bit and make a little room for
Gratitude
How? If this is your first, sit in the sunshine, feel the warmth on your face, and lean into the Heavenly Father who is waiting to wrap His arms around you. Read the story of the Prodigal Son in Luke 15 and focus on the love of the Father and how He constantly looks for His son to return and runs to him when he does. Be encouraged that if you both know the Father, your loved one will do the same- again, one day. Find someone on your grief journey ahead and watch how they are doing. Continue to shift the hole of loss in your heart over bit by bit, replacing it with
Gratitude
If this is your 31st or somewhere in between, find one person you are thankful for and send them a note. Look for someone closer to the 1- or 2-year mark and give them a hug and smile that says, I get you. Write out a list of what you are thankful for and list the fulfilled promises of God and how He has shown up over and over in your life. Be intentional in giving thanks and serving others. There is much to be thankful for.
Gratitude
Psalm 34:18 "The LORD is close to the brokenhearted and saves those who are crushed in spirit." ESV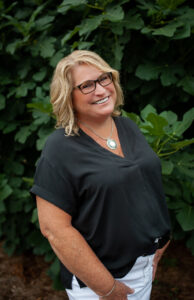 Tecia Janes
Founder of Choosing Him Ministries
To all the men in my life, I am GRATEFUL. 
Happy Father's Day!