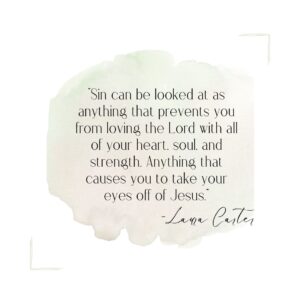 What sin are you holding onto? What is that favorite thing you struggle to let go? What do you keep in an unworthy, elevated place that is dishonoring to God? If we are completely honest, we all have something and probably many things.
Sin can be looked at as anything that prevents you from loving the Lord with all of your heart, soul, and strength. Anything that causes you to take your eyes off of Jesus.
One of the things I keep in an unworthy, elevated place is ME. I love being self-reliant. I love to lean into my own abilities and so easily leave God out of my plans. I think, "I've got this." It is unfortunate because when God calls me to do something outside of MY abilities, I panic under the weight of my inadequacies. A very recent example is how God led me into a new career path. I have zero relevant work experience and was panicking under the weight of my shortcomings while filling out the application.
Isaiah offers very encouraging words for our struggles with sin.
"Seek the Lord while He may be found; Call upon Him while He is near.
Let the wicked forsake his way And the unrighteous man his thoughts;
And let him return to the Lord,And He will have compassion on him,
And to our God, For He will abundantly pardon." [Emphasis added]
Isaiah 55:6-7
Later in the same chapter, it goes on to say:
"For you will go out with joy And be led forth with peace;
The mountains and the hills will break forth into shouts of joy before you,
And all the trees of the field will clap their hands.
Instead of the thorn bush, the cypress will come up,
And instead of the nettle, the myrtle will come up,
And it will be a memorial to the Lord,
For an everlasting sign which will not be cut off."
Isaiah 55:12-13
The cypress tree is used in the Bible as a symbol of glory and honor, a symbol of God's provision, and a material for the temple (II Kings 19:23, Psalm 104:16-17, Hosea 14:8, and I Kings 6:15).
Though our sins have brought us low, God desires to restore us to a place of honor (Psalm 91:15). He is able to provide all we need to live this life fully in Him (Phil. 4:19). And He desires for us to be temples for Him (1 Cor. 6:9). In all our striving, how calming it is to know that HE is able to bring the material for building a temple into our lives! David says in 1 Chronicles 29, "But who am I, and who are my people, that we could give anything to you? Everything we have has come from you, and we give you only what you first gave us!"
I encourage you to consider "that which so easily entangles you" and surrender it to God. Doing so will open you to God's many rich and wonderful blessings. God has graciously been working on my trust in Him, and I am learning to surrender my will, my striving, and my fears into His able hands. He has great plans for you and me! So say "Yes!" again and again to His Lordship in your life, and watch the cypress come up.
(P.S. I got the job! I trust God will equip me for His good work.)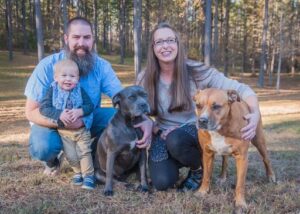 Laura Carter
CHM Guest Contributor