Things I learned from Mom:
Relationships matter.
Mom and our Dad were a power couple. Together, their love for Christ and for others multiplied their God-given strengths and their influence on others.
People mattered to her because they mattered to Christ.
She always went after the one she felt needed something or someone the most. It didn't matter who you were. Her eyes were always watching to see the wounded, lost, left out, or tired: and she went after them.
Love deeply and generously.
She was passionate about people and showing Christ's love. Mom was a very gracious host, but she was strongest at the back door. She was masterful at finding ways around red tape. She saw a problem and she was going to find a way to fix it. This passion saved many kids lives throughout her time with Winshape Homes.
Mom taught us to serve at an early age.
She ALWAYS had a pan of brownies and Coke on the counter. It didn't matter what time of day our friends came over; they could expect to find those ready & waiting. She offered to host my high school FCA group for breakfast one year. So, we brought 30 plus high schoolers for waffles before school. No small feat – outlets were tripping the breakers. She put waffle makers all over the house – in the hall, bedrooms, bathrooms. It was a sight to see, and my friends never forgot it nor her hospitality.
Our house had an open-door policy – Our friends were family always.
Mom taught us about teamwork.
Mom and Dad were a team. When church camp came around, she was there as well. One year, she and Jan left during the day to shop and they stumbled upon an old cemetery. Mom loved to walk among the headstones, read the names and dates. She really cared about what happened in each family's life.
I admire a woman who can raise three girls so close in age with all the arguing, competition, company, clothes stealing, I mean sharing, and I don't recall her ever losing her temper. And don't EVER ask her to take sides because she would defend us all to each other every time.
Mom taught us how to love our husbands and our kids.
She was an incredible wife, mother, and grandmother. She loved our kids. She did her best to be at every sporting event, ballet and program our kids ever had. She always made sure there was a cookie cake at every birthday.  All 3 of our families often just moved in and hung out with her just because we loved being with her. She made life special for us all. When time was short in her never-ending busy days, she would do what we called "flybys". She would pull up and run in and say "hey!!" and give hugs and leave to run by the next daughter's and grandkid's house. We would call each other and say "Hey Mom's doing her flybys, get ready" because we never wanted to miss her.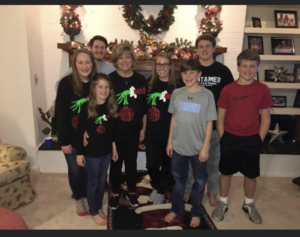 Mom was so faithful in her Christian walk and with her friends.
I don't know anyone else who has had as many surprise birthday parties as Mom. She was so loved and gave so much. Her relationship with friends was lifelong.
Mom had a blessed life, but it wasn't easy.
She suffered through one tragedy after another. But if you didn't know her story, you would never know her pain. She smiled, she loved, she would never complain, and she made sure you felt loved and valued. We watched her trust God when she didn't understand. She constantly found her purpose in helping others, hoping when she left, they may ask what makes her different. It was her love for Christ.
I was told this past week that the year before Dad passed, the church nominated her as Mother of the Year on Mother's Day. Her response was "if there is any good in me, it's Jesus." She was so humble. Her beauty inside and outside just radiated past the pain of life.
Mom taught us to do "hard" well.
She could have become like Naomi in the Bible who changed her name to Mara, meaning bitter, because of all her loss. But mom didn't. She knew God had a plan for her life and she was here for a purpose. She trusted Him to guide her steps, to provide for her, and to be the father to us girls. Mom did "hard" well.
Mom taught us about kingdom perspective.
We prayed through the 37 days of Mom's battle with Covid, that we would honor her by doing hard well too, trusting God when we didn't understand, and couldn't comprehend. It was and is hard. We continue to pray that each person who intersected with Mom's life will encounter Jesus. Mom understood kingdom perspective and she lived each day as if it was one day closer to being in heaven. I know without a doubt that if one person's eternity was changed through this horrible battle she has fought, she would now say it was worth it. That's just who Mom was.
I pray today as we ALL muddle through our pain of her loss in our everyday life that we will seek a kingdom perspective, that we will all seek to serve others, and to let others see Christ in us. As Paul says, "Follow me as I follow Christ". That is what we are doing Mom. We are following in your steps, as you followed Christ. "May our words and our lives and the mediations of our hearts be pleasing to you, oh Lord." Psalm 19:14 (NIV)
 "For I am already being poured out like a drink offering, and the time for my departure is near.  I have fought the good fight, I have finished the race, I have kept the faith.  Now there is in store for me the crown of righteousness, which the Lord, the righteous Judge, will award to me on that day—and not only to me, but also to all who have longed for his appearing." 2 Timothy 4:6-8 (NIV)
Well done Mom, thy good and faithful servant. You have fought the good fight, you have finished the race, and you have kept the faith.  We will forever love you and miss you and may our family honor you by loving Jesus and loving others.
Happy Mother's Day, Mom.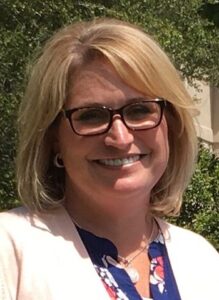 Tecia Farmer Janes
Founder and Director
Choosing Him Ministries