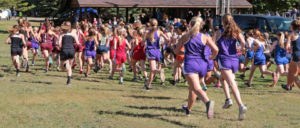 It was a hot day, not a cloud in sight. My feet continued to pound down on the dirty ground below me. I was hot, tired and ready to throw in the towel. But that wasn't a possibility as I was running my first big cross country race my sophomore year of high school. I can remember feeling the exhaustion through my entire body and being so discouraged with how much of the race I had left. I even thought about pretending to fall and "sprain" my ankle.
But my competitive nature wouldn't actually ever allow that. So I continued to drudge forward doing my best, one step at a time. Until I came over a hill that offered two reliefs. First, a bit of shade. FINALLY!! We had a break from the heat.
Second and more importantly, I saw my big brother with a couple of his friends. When they saw me coming it gave me fuel to finish the race strong. Not only did they start cheering for me as loud as they could, Brian had surprised me and somehow convinced a couple of his buddies to paint my name on their chests. So here I came and I passed my brother that had a big "B" painted on him and he was cheering louder than anyone out there.

It was a breath of fresh air as well as bringing a huge smile to my face. It motivated me to finish the race and finish it strong. My story reminds me of the purpose of fall. How, you ask? Fall breathes fresh air into our souls after the heat of summer in the south (which as many of you know our summers can be extreme). When you can't stand the hot, humid air for one more day, one morning you walk outside and feel the arrival of fall. It may be slight at first, but the mornings are cool bringing hope the heat will soon be a distant memory. It also kicks off one of my favorite times of the year – football season, pumpkin flavored season, and the beginnings of some of my favorite holidays (Halloween, Thanksgiving, and Christmas). The fall brings so much change and the change is welcome.
As we all are starting to enjoy the beginning signs of fall, I hope to encourage us all with the reminder of taking one step at a time. God designed us all to have our own unique race to run in this life. Fall is such a great time to remember the heat of our trials will pass and fresh, cool air will be poured into our lives. If God has you in a life season that is hard right now, I hope to encourage you that YOUR fall may be arriving any minute. Until it comes, I hope to encourage you to finish your race and finish it strong!
"Do you not know that in a race all the runners run, but only one receives the prize? So run that you may obtain it. Every athlete exercises self-control in all things. They do it to receive a perishable wreath, but we an imperishable. So I do not run aimlessly; I do not box as one beating the air. But I discipline my body and keep it under control, lest after preaching to others I myself should be disqualified." 1 Corinthians 9:24-27
Our prize is so much more than a medal from a run. Each of our prizes are personal to us and they are worth the painful steps that will lead us to the finish line. "So run that you may obtain it". Keep going today! Take the extra steps to get you towards your goal, your prayers. And maybe, just maybe, in the morning you will feel the cool fresh air.
Until then, go enjoy a pumpkin spice latte or some delicious chocolate pumpkin bread (can you tell that the yummy fall treats are heavy on my mind??) while cheering your favorite football team! Happy Fall!!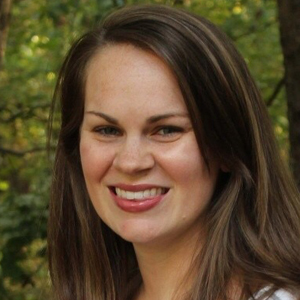 Written by Becca Parrott
CHM Contributor