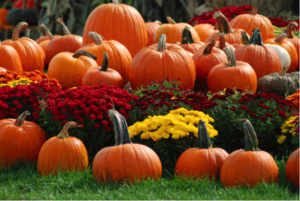 When I think of the fall season, I think of pumpkins, leaves, hay rides and mums. I think about getting to wear scarves and sweaters and fuzzy socks. And do not forget this is the time of year when everything smells like pumpkin spice.
Have you ever thought about what the purpose of fall is? During this time of year, animals are preparing for the winter storing up food and getting ready for hibernation. They are preparing to move into a new season. Besides the warm and fuzzy things I mentioned earlier, I think God is also leading us into a new season, a new day, and a new perspective. Just like the animals He created, we are preparing for what's to come.
Some of the things the fall season brings is change, mystery, comfort, preservation and protection. Let's take these apart for a minute to see how the purpose of fall can apply to our life.
Change – The only constant is change. How many times have you heard or read that? I want you to really pause here on this and think about how much your life has changed just from the summer to now that you are about to enter the fall. Maybe you find yourself thinking this has been a very fulfilling season in your life. I hope so. And if that is the case – good for you! Maybe you are coming out of the season of being overwhelmed at work, feeling run over at home, not feeling valued in your job, stressed with caring for aging parents. The list could go on and on. You might be feeling completely done with change. I mean D.O.N.E. with change. But change is inevitable. If you are not experiencing change right now, you already have or you are about to. As you enter this changing season, adjust your perspective to think about what God has in store for you. Shift your focus from what you cannot control to that of what lies ahead. Ecclesiastes 3:1 says "There is a time for everything and a season for every activity under the heavens . . ."   The fall is a new season that will bring new things into your life.
Protection is something else fall brings to us. With the fall comes cooler temperatures, fall festivals, football season and bonfires. Oh my goodness, I love a good 'ole fall festival with crafts and homemade kettle corn. Yum! I find myself focusing more on my family's health with extra vitamin C and allergy medicine to counteract the seasons blooms and reminding everyone to make sure they have something to keep them warm. Protection comes with the fall season because we shift into the phase of making sure we are protecting ourselves from the cold and flu season that comes with those beautiful blooms and changing leaves. The word protection means to protect someone or something from harm. 2 Thessalonians 3:3 says, "But the Lord is faithful, and he will strengthen you and protect you . . . " He protects us from everything.
Mystery comes with every season, even though we're highlighting the purpose of the fall season. Each day presents us with new mysteries. Consider how mysterious it is to see green leaves on the trees and in a matter of days they turn to beautiful shades of red, yellow and orange. Ever sit and wonder how in the world does that happen? It's one of the most beautiful seasons of the year with all the colors in the trees. There is a certain mystery to how it all happens, right? Yet we accept it in all its mystery, in all the unknown of exactly how it happens. How accepting are you of the changing seasons? We have the opportunity to experience all four seasons in Georgia, and I am very grateful. I particularly look forward to the summer heat going away and the fall bringing in the cool crisp air. The seasons bring to life a little of the unknown, a little mystery and we accept it. When you experience the unknown, the mystery in your life, trust that Christ has you. You will be amazed when you do that you will be able to have more capacity to live life to the fullest. For a little "mystery" reading in the Bible, pick up Daniel 2 and learn about King Nebuchadnezzar wanting his dreams interpreted and Daniel sharing that only God can reveal the mysteries the King asks about. Verse 28 which says, "but there is a God in heaven who reveals mysteries." God reveals new things to us with every changing season in our life.
Comfort – I really like this word. It makes me feel good and I hope it makes you feel good to. Joshua 1:9-10 are two of my favorite verses. I have lots of favorite verses. These two in particular are painted on one of my coffee cups. A coffee cup given to me by my son's girlfriend a year after my husband died. She never met my husband; never saw the dynamics of our family together. However, she knows me well enough to know how much I enjoy a cup of coffee. I remember her telling me that when she saw the verse on the mug, she thought of me and how strong and courageous I had to be through tragedy. No matter what season of life you are in, as Christians, we should be looking to the Lord for our comfort. He truly is the only one who can provide the comfort we need. There is no person on this earth, there is no book, there is no movie and there is nothing we can buy that will provide the kind of absolute comfort the Lord provides. We should also be mindful of who is watching – our influence over others – as we seek comfort in the midst of the unknown, in the midst of new seasons of life, lean on the Lord to provide. I was not aware that my son's girlfriend was really paying attention to me, but she was. Joshua 1:9-10 says, "Have I not commanded you? Be strong and courageous. Do not be afraid; do not be discouraged, for the Lord your God will be with you wherever you go." He will be with us through every season.
Preservation is my last point about the purpose of fall and what this season brings. My small group at church is working through a study called Fight Back with Joy by Margaret Feinberg. One of the lessons was on pushing back "joy robbers" and banishing "joy swindlers." She talks about how if we increase our rest, we can increase our joy. Boy is that speaking the truth. How often do you rush through your day, get to bed late, wake up in the morning to start all over and it suddenly hits you, "where is the joy in what I'm doing?" Read Isaiah 58:13-14 and pay attention to the five things God asks us to do and what we will receive in return. I am not providing the verse here because I want you to look it up in your Bible or in your Bible app. Read it right now – it will not disappoint. The definition of preservation means to preserve something or the state of being preserved. As we enter a new season this year and think about the purpose of fall, one of the purposes I think of is preservation. As I wrote at the beginning, animals are preparing for hibernation; they are preparing to rest. One of the ways we can practice preservation is to preserve ourselves. One of the ways we can do this is like it says in Isaiah 58 by honoring the Sabbath. We can also do this by more fully engaging in the fall and taking advantage of the opportunity to be indoors when it's cold, reconnect with family and rest.
When I think about the purpose of fall, I think about all that God created. The fall to me resonates well with God's creations. So I end my writing with:
All things bright and beautiful,
all creatures great and small,
all things wise and wonderful,
the Lord God made them all.

Each little flower that opens,
Each little bird that sings,
He made their glowing colors,
He made their tiny wings.

The rich man in his castle,
The poor man at his gate,
God made them high and lowly,
And ordered their estate.

The purple headed mountain,
The river running by,
The sunset and the morning,
That brightens up the sky.

The cold wind in the winter,
The pleasant summer sun,
The ripe fruits in the garden,
He made them every one.

The tall trees in the greenwood,
The meadows where we play,
The rushes by the water,
We gather every day.
He gave us eyes to see them,
And lips that we might tell,
How great is God Almighty,
Who has made all things well.

All things bright and beautiful,
all creatures great and small,
all things wise and wonderful,
the Lord God made them all.



 CHM Contributor, Melissa Todd