God has a way of getting our attention to connect with Him. Recently, Revelation, Chapter Four has come up three times. The first time was when I was studying about angels. Revelation, Chapter Four describes what angels look like in very detailed ways. It also describes their daily worship and praise as "holy and worthy" to God. The second time Revelation, Chapter Four came up was on a Sunday. Our choir presented a new song to the congregation during worship, "Is He Worthy", by Chris Tomlin. The message of the song came from Revelation, Chapter Four. The following Tuesday, I began a new Bible Study, "Lord, Teach Me to Pray", by Kay Arthur, and in the very opening video, Kay describes God as being a Holy God and she teaches us why it is important to acknowledge God's holiness. Kay tells us there is a way to approach God when we pray. This was the third time in recent days, Revelation, Chapter Four has been presented to me.
Revelation 4 (NIV)
The Throne in Heaven
4 After this I looked, and there before me was a door standing open in heaven. And the voice I had first heard speaking to me like a trumpet said, "Come up here, and I will show you what must take place after this." 2 At once I was in the Spirit, and there before me was a throne in heaven with someone sitting on it.
And then in verse 8;
8 Each of the four living creatures had six wings and was covered with eyes all around, even under its wings. Day and night, they never stop saying: "'Holy, holy, holy is the Lord God Almighty,'[b who was, and is, and is to come."
We serve a Holy God and He is worthy of blessing and honor and glory (paraphrased from verse 11). But what was God trying to get me to see specifically? After all, He has brought these verses to me now, three times.
John is describing the throne room in Heaven in a very descriptive manner. I found the four living creatures to be fascinating. They each had six wings and were covered with eyes all around, even under their wings. This seems to be something out of a sci-fi movie, but definitely not something we see everyday.
My oldest grandson, now almost 15, was in the hospital about 10 years ago to have a cyst removed from his chest that he had been born with. The doctors had given him some happy juice to help him relax and it took effect in about 5 minutes of swallowing the purple liquid. The child began laughing hysterically and started waving his arms and saying he was trying to catch the flying dinosaurs.
He looked over at his mom, standing on one side of the bed, then to me on the other side, and with eyes wide open he said in amazement, "Nana Net I see your eyes. You have lots of eyes."
Then he looked at his mom and she said, "What do you see now?"
"I see blue," he said.
"You mean I see you?"
"No, I see blue," he said.
"You mean, I am blue," she asked.
"No, you are Papa Smurf."
And with that we all started laughing again. The nurses wheeled him to the operating room and she and I laughed and talked about this funny experience with the happy juice. After we had calmed down from our own laughter, they were bringing him back to us. At the time, we felt like God gave us this experience to keep our minds from worrying about this baby being put to sleep.
In reading Revelation, Chapter Four and John's glimpse of the Throne Room, I now believe God may have given my grandson a glimpse into the Throne Room of Heaven. We'll never know for sure, but the similarities of both are quite astounding.
This may seem sort of weird to you, but at some point during my Revelation reading, I thought about the half bath in my home. If you have any boys (grown or not so grown) in your house, surely you have heard the phrase, "I'm going to sit on the throne."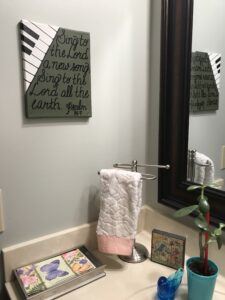 I love this little room. I didn't set out to decorate this little room in a certain way, it just evolved over time. I love music. I love to listen to music, I love to sing, I love to play, I love to write, etc. I love everything music. God speaks to me tremendously this way. During my "reawakening" in January of 2013, God gave me a song to write for Him. I claim the verse: Psalm 96:1, "Sing to The Lord a new song, sing to The Lord all the earth", as my confirmation verse from God that He gave me this song.
This verse is hanging on the wall of my little throne room. I also have a few other musical items and mementos here and there that all point me back to God and His gifts to me. I love going in there and hav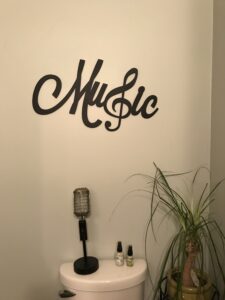 ing a few moments with God. Strange as it may sound, friends who have visited my house for the first time have even commented on the character of this room.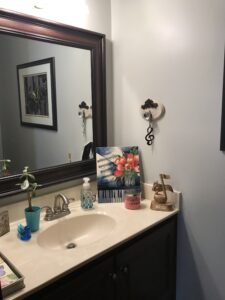 So, what is the message God has for me? I believe He is teaching me who He is. He is revealing His holiness to me so I can communicate with Him on a deeper and more intimate level and He is using even this small bathroom as part of my new realization.
What is God revealing to you today?
Do you need to experience Him on a deeper level?
Do you acknowledge Him as the Holy God that He is?
Maybe you haven't met Him yet, but you are at the point in your life where you know you need Him more than ever.
Please comment on this blog and let us know what questions you have or if you seek to come to know the God of my salvation. Someone will pray with you and point you toward your next step in growing as a child of God.
Blessings y'all!!!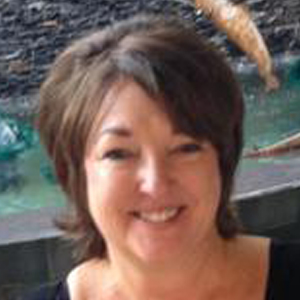 Annette Burrell
CHM Contributor