At some point in our lives, we will all find ourselves in a painful circumstance. Sometimes it's one of our own makings and sometimes it's caused by the actions of someone else. Here we are face to face with something we never asked for or planned. What do we do? Thankfully, as a follower of Jesus, we have a choice that's a better response from the way the world handles trials. We can show others how our Jesus walks with us through our circumstances. We can say to someone when they ask,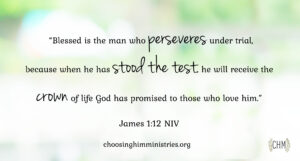 "How do you do this?", well…. "Let me Tell You About My Jesus"!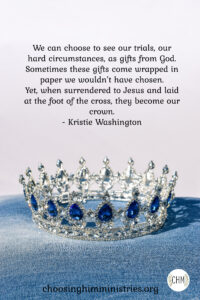 We get to choose to walk through less than desirable circumstances with Jesus or without him. When we pursue a relationship with Him, the result is that we look less like the world, less like ourselves, and more like Him. Our response is different. In James 1:2-4 the Bible says, "Consider it pure joy, my brothers, when you face trials of many kinds, because you know that the testing of your faith develops perseverance. Perseverance must finish its work so that you may be mature and complete, not lacking anything." Trials aren't fun. Persevering isn't easy and it's typically not fast, so why on earth would I want to do either one? The reason lies in James 1:12, "Blessed is the man who perseveres under trial, because when he has stood the test, he will receive the crown of life God has promised to those who love him." Finally, James tells us in chapter 1, verse 17, "Every good and perfect gift comes down from the Father of heavenly lights, who does not change like shifting shadows." We can choose to see our trials, our hard circumstances, as gifts from God. Sometimes these gifts come wrapped in paper we wouldn't have chosen. Yet, when surrendered to Jesus and laid at the foot of the cross, they become our crown.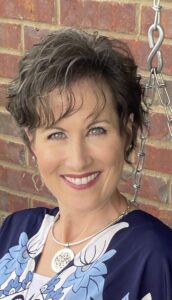 Kristie Washington
CHM Contributor